Parks and Protected Lands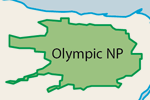 398 parks, including the latest additions, Fort Monroe, Virginia and Cesar Chávez, California.
About
Data includes the 398 authorized National Park Service units in the United States only. The data does not include affiliated areas and unauthorized park units. We'd like to include more national parks from around the world, see issues below.
Park units over 100,000 acres appear as areas, park units under 100,000 acres as points, and linear parks, including rivers, trails, and seashores, as lines. There are a few exceptions to this rule.
(below) Units in the southern United States include Great Smoky Mountains National Park, the Appalachian National Scenic Trail, Stones River National Battlefield, Andrew Johnson National Historic Park, the Obed Wild and Scenic River, and Big South Fork National River and Recreation Area.

Park shapes were generalized with the Visvalingam-Whyatt algorithm using the on-line tools at Mapshaper.org
The park units are customized to fit 1:10,000,000-scale Natural Earth base data available at www.naturalearthdata.com
Many parks are comprised of scattered, non-contiguous land parcels. Not all of these are shown, especially in urban areas and the northeastern US. Dots generally indicate the center of the largest parcel or the parcel where the visitor center is located.
Although National Preserves adjacent to National Parks are generally counted as separate units, they are typically administered jointly with their respective parks. This data reflects this administrative reality. For example, Denali National Park and Preserve appears as a single merged unit.
Park boundaries extending over water areas are not shown. There are a few exceptions to this rule.
Hawaiian parks do not contain macrons over vowels.
Park abbreviations used in the [UnitName] field follow those used in the National Park System Map and Guide.
Park names [Name] are shorted versions of the [UnitName] appropriate for general map labeling and were created by Nathaniel Vaughn Kelso. When referring to the park in text or on a more detailed map, use the [UnitName] and not the [Name]. National Parks do not receive a NP trailing type indicator in [Name], while other types of park unit do (NHP, NS, etc).
Scale ranks do not imply importance of one park over another but can guide which parks should be shown on more and less detailed maps. Scale ranking by Nathaniel Vaughn Kelso.
Data originally created by Tom Patterson, January 27, 2010. Although Tom Patterson is a National Park Service employee, this data was produced privately and is not an official product nor is it endorsed by the Park Service.
NOTE: Natural Earth places Parks and Protected Lands in the "cultural" category because, unlike rivers, mountains, and other "physical" features, parks are not fixed reference features. Instead they change regularly as new features are designated by governments and can include both natural wonders and sites of cultural (historic) significance.
Issues
Please contribute nationally-significant parks for your country. Currently this theme only includes parks in the United States of America.
Does not yet include protected lands in other systems like National Forests or large state-level (adm1) units.
Resources
Version History
2.0.0
1.3.0
1.1.1 - Added a 393rd unit, River Raisin National Battlefield Park, in Michigan.
1.1.0