Roads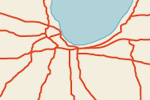 About
The "basic" roads at 10m scale are from CEC North America Environmental Atlas with no attributes and only 1 scale rank class. The "basic" is only available in North America due to the source. We'd like to expand this to world wide, do you have data to contribute?
The "supplementary" data in North America includes preliminary scale ranking and full list of attributes and is graciously contributed by XNR Productions.
(below) North America.

Database background notes
The database is at 1:1,000,000 scale (but holds up to 1:250,000 scale), covering all of the United States and Canada, Alaska, Hawaii, Puerto Rico, Mexico, and Belize and includes the following attributes:
NUMBER:
CLASS:
Interstate (Interstates and Quebec Autoroutes)
Federal (US Highways, Mexican Federal Highways, Trans-Canada Highways)
State (US State, Mexican State, and Canadian Provincial Highways)
Other (any other road class)
Closed (road is closed to public)
U/C (road is under construction)
TYPE:
Tollway
Freeway
Primary
Secondary
Other Paved
Unpaved
Winter (ice road, open winter only)
Trail
Ferry
DIVIDED:
Whether or not the road is divided. This field is only listed for roads of TYPE Tollway, Freeway, Primary, or Secondary.
STATE:
State or province the road is in.
Issues
BC ferries (AK and WA portions clip on BC boundary)
normalize eastern Canada minor road coverage (remove some or add to US?)
Related projects
Global Roads Inventory Project – From the Netherlands Environmental Assessment Agency. The data in the GRIP database is presented as is. GRIP is a combination of some commercial and many publicly collected datasets and classified along the UNSDI-T datamodel. GRIP data scales vary between 1:100K to 1:1M. The GRIP density rasters and publicly collected features of GRIP are available under a BY-SA Creative Commons Licence.
Version History