Antarctic Ice Shelves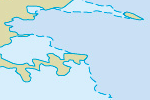 Year-round ice shelves fringing Antarctica.

About
Generalized from 10 million ice shelves, which derive from 2003-2004 Mosaic of Antarctica. Reflects recent ice shelf collapses digitized from satellite images.
Does not include seasonal (winter) ice which extends much farther around the entire continent.
(below) Antarctic Peninsula with ice shelves. Dashed line in the marine – ice shelf boundary.


Issues
None.
Resources
Version History