Admin 0 – Details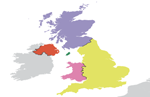 There are 197 sovereign states in the world. Country subdivisions and the smallest map units.
About
Tiny country points: Some countries don't read well on thematic choropleth data maps. Color code the dots with the same information as the larger country polygons to communicate data that would otherwise be lost.
Sovereign states: There are fewer sovereign states than ISO country codes. Sovereign States do not distinguish between the metropolitan and semi-independent portions of a state or it's constituent countries. Passports are issued by sovereign states, not countries.

Map units: Not usually useful but some FIPS and ISO codes refer to groups of individual admin-0 territories by these designations. US Pacific Island Territories, French Guiana, and more.

Map subunits: Countries subdivided by non-contiguous units. Lower-48 + DC, Alaska, Hawaii. Mainland metropolitan France, Corsica.
Scale ranks: Smallest base unit where multipart polygons per each admin-0 feature is broken apart and given individual scale ranks.
Disclaimer
Natural Earth Vector draws boundaries of sovereign states according to defacto status. We show who actually controls the situation on the ground. For instance, we show China and Taiwan as two separate states. But we show Palestine as part of Israel. Please feel free to mashup our country (link) and disputed areas (link) themes to match your particular political outlook.
Issues
None known.
Version History