Bathymetry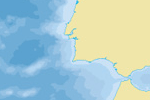 Nested polygons for each depth created from SRTM Plus.
About
Nested polygons at 0, -200, -1,000, -2,000, -3,000, -4,000, -5,000, -6,000, -7,000, -8,000, -9,000, and -10,000 meters. Created from SRTM Plus. The minus 2oo meter bathymetry layer is buffered slightly around all coastlines to avoid coastline overlaps. Isobaths surrounding islands, seamounts, and near other steep slopes received considerable manual generalization to improve legibility.
(below) North Atlantic ocean depth bathymetry off Spain (composite of all bathymetry files).

Issues
None.
Resources
Version History