Railroads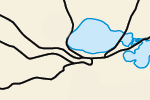 About
The "basic" railroads at 10m scale are from CEC North America Environmental Atlas with no attributes and only 1 scale rank class. The "basic" is only available in North America due to the source. We'd like to expand this to world wide, do you have data to contribute?
(below) North America.

Issues
No attributes. Precision XY accuracy is to 20m not 10m.
Version History