Ports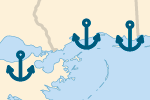 About
Derives from High Seas, a detailed GIS compilation of world wide ports that is in the public domain.
Loosely based on the work of Craig. Combing with several other datasets and original research.
Location values
WARNING: These values are still in flux.
Ordered best to worst
Land office – For marinas and cargo ports.
Crane – If more than one, the central one. For cargo ports.
Dock – The area of water between two piers or alongside a pier that receives a ship for loading, unloading, or repairs.
Pier – Has a 'dock' on either side. Usually a few in a row.
Quay – A wharf or reinforced bank where ships are loaded or unloaded.
Wharf – A landing place or pier where ships may tie up and load or unload. Usually singular.
Marina – Place for recreational ships to tie up.
Port – A place on a waterway with facilities for loading and unloading ships.
Harbor – (Harbour) A sheltered part of a body of water deep enough to provide anchorage for ships.
Anchorage – A harbour with no facilities.
Approximate – Could be up to 20 miles away from the actual port location.
More often it's within a mile of the actual location. Accuracy is low due to geocoding
based on town name, use of DD.DD° or DD.DDDD° format instead of DD.DDDDDD° for latitude
and longitude values.
City – Purely "there's a port in City A, so the port XY gets the longLat of City A, often putting it on land instead of water.
Less useful:
Jetty – 1. A structure, such as a pier, that projects into a body of water to influence the current or tide or to protect a harbor or shoreline from storms or erosion. 2. a wharf
Note: some above from Yahoo! Answers and American Heritage Dictionary
Type values
harbor (aka harbour or haven) – is a place where ships, boats, and barges can seek shelter through stormy weather, or else are stored for future use. Harbors can be natural or artificial.
port – A port is a facility for loading and unloading vessels; ports are usually located in harbors.
anchorage – where a boat or other vessel lies at anchor
Activity:
cargo port (bulk, break bulk, container)
cruise terminal: cruise home port, cruise port of call
fishing port
recreational
dry port – storing ships on land
Location:
seaport – on the sea (blue water)
inland – on a river or large inland body of water (brown water)
warm water – ice-free year round port in an otherwise winter sea-ice zone
Construction:
Natural – can still include later enhancements.
Artificial –
(below) North America.

Version History