Admin 0 – Breakaway, Disputed Areas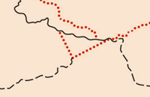 Kashmir to the Elemi Triangle

About
Disputed areas and breakaway regions From Kashmir to the Elemi Triangle, Northern Cyprus to Western Sahara.
The United States Central Intelligence Agency (CIA) maintains a list of disputed areas and boundaries as part of their World Factbook.
(below) Antarctica claims were added in version 2.0.0.

Issues
Some disputed areas that are small could be better symbolized with a point symbol.
Version History